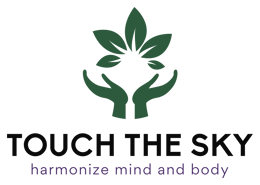 The Clients Say....
"I had the most amazing detox and massage ever!" CN
"Mary is an amazing massage therapist, but it goes way beyond that. Her knowledge of the body and interactions is always enlightening. I love her natural, holistic approach to dealing with life issues. You could never go wrong spending your time with her. You will come out better, more focused and balanced. Mary is a joy to be around." SH
"I had an absolutely amazing experience here at Touch The Sky. It was a very calm and relaxing environment. I did breathwork for the first time with Raquel. She was absolutely amazing. My experience was beyond what I ever expected. Her kind words and calming voice helped me so much. I walked out feeling 100% better. I will absolutely be returning for another session. Thank you so much Raquel." SV
"My time spent at Touch The Sky is always very appreciated and effective. Mary knows how to manipulate my body to prevent the aches and pains that I would experience otherwise. Massage therapy is a wonderful way to keep older bodies working. You are very much appreciated and we thank you so very much for being there for us." LK
"Mary is amazing and always in-tuned to my body and needs. From the time I walk through the door I am completely relaxed. Mary has a magic touch and when she finishes my massage I fill like a completely different person. Thank you Mary for your strong hands and healing technique." LM
"Mary always knows what needs to be done!" CC
"Another wonderful massage as always with Mary. My sinuses and chest really cleared out." DG
"The BioMagnetic Therapy I had with Mary was a surprising experience. I came away with a profound sense of calm so intense that I wondered what the feeling was. It included an expanding into a larger, taller self and a connection to pieces of myself that I have not experienced since I was a child. I will be back to experience the mystery of Mary's work. " GS
"It truly is an experience that is a spiritual journey that one feels along with being nurtured in a most loving and gentle way which is very uniquely Mary's intuitive gift that she shares with her clients. It has been a privilege to have known Mary for many years. She is an extraordinary woman blessed with wisdom and knowledge." CS
"Fantastic as always!" - DG
"Always top notch massage! Mary never fails to know how to fix my body." CC
"Long time customer, Mary is a true healer among us, we are very blessed to have her in our community. The stress that lodges in my neck & shoulder blades is greatly relieved. Thank you so much Mary!" JP
"I thoroughly enjoyed my massage with Mary. I felt very relaxed and comfortable. She helped alleviate the stress and tension I was experiencing. Very grateful for Mary's expertise!" SH
"If you love yourself, treat yourself to Touch the Sky's amazing healing services as they have so much to offer! I have been receiving massages since the 1980's, a pleasure I can't imagine not experiencing! However, not all massages are the same. Mary is the finest masseuse, healer and kind soul there is. You can feel it in her touch, those amazing hands! She has spoiled me! Her positivity is infectious and I am revived and renewed after everyone of her massages. Mary is highly skilled, knowledgeable, responsive, intuitive and she continues to learn new techniques and educate herself. Mary's studio is a warm and lovely studio and certainly adds to the comfort you receive." - ML
"My massage with Mary was perfect. I loved the atmosphere in the beautifully decorated space, from the tinkling sound of the waterfall in the entry room, to the soothing colors of the massage rooms, and my favorite - the faux fireplace in the sitting space after the massage. I didn't want to leave. Mary's massage was a wonderful combination of deep work, relaxing massage that made me feel better than I have since her last massage. I look forward to another massage with Mary and to her new expertise in the power of magnets to heal." GS
"Exactly what I needed! This is my new place to go for relief, relaxation, and healing!" - SH
"Best place to detox in Globe!" - CW
"What a High Vibrational feeling i receive as i enjoy every aspect of my visit. I am made aware of different types of therapies available for helping heal the body from the knowledge Mary shares with me. This gives me the opportunity to experience these different techniques to receive the benefits that I was not familiar with before my visit. It is as if I am a child again with excitement running to the next ride at the amusement park with all that is introduced to me. The work I do causes tremendous stress on my neck and shoulders. In the past, I have visited a naprapath, a chiropractor, and I stretch repetitively to help correct the issue. The connection between me and Mary during the massage i receive are beyond words for my experience. The Love and Energy she releases through her hands removes all tension and tightness. My purpose and experience are fulfilled with rest, relaxation and the Body and Mind feeling balanced and complete! Thank you Mary, for your Love and Energy this day!" JA - Chicago
"As a professional body builder, I need a masseuse with knowledge and strength to relieve my overworked muscles. I drive up to Globe because I have never had any massage that came even close to what I get at Touch the Sky! Very impressive indeed."

"My wife and I have traveled the world over getting massages along the way for over 10 years now. Ever since our first massage with Mary over 6 years ago, we knew we had found a world-class therapist. Every six months, we make it a point to return through Globe, just to experience her healing hands at work. What a treasure!" DB - Wisconsin

"I can't believe that I'm not 2 inches taller after getting massaged and stretched on that amazing table! Professional and pleasurable." JB
"It was privilege and honor to have you give us both one of the best and heartfelt massages that we have ever had. I am sure glad that we spotted your place as we drove by... Great to have a massage therapist of your caliber so close when we are in Arizona. Hugs & Blessings, BR & CR, California
"Mary is truly an intuitive bodyworker-- backed by her knowledge and love of anatomy & physiology, her spiritual quest for expansion & opening, and sincere desire to facilitate others' transition to wholeness. I have been deeply touched by Mary's work emotionally, physically, and spiritually. My whole being feels like I've been embraced after I receive work from her. I feel like my tissues and muscular tension transforms and releases, my mind and soul sigh and breath with more ease and lightness. Sweet contentedness is the experience I have upon leaving her office. I thank you, Mary, for all you've done for me! With Gratitude and Love," J
"I've never found someone so knowledgeable and able to find things in the body. We have a great rapport and Mary's really helped me alleviate my back pain. She showed me some stretches that I do on my own and really seem to take care of the problems." CN
"The last time I had a massage, I felt your touch to be that of a mother handling her infant with all the focus of the universe as well as preparing a beloved son for burial. In a person's journey from the cradle to the grave, I believe there literally a relatively small number of times we are touched with such intent. God forbid, some never! Especially at this point in my life, your touch is an amazing gift. Thank you." DT